Cycling in Amsterdam is probably the most Dutch experience you will get. Plus it's by far the most popular way of getting around the city of cycles. But Amsterdam's traffic (both cars and bikes) and the maze of streets can be very confusing for visitors on two wheels. Read the following tips in order to keep safe safe before you hop on your rental bike.
1. Where to ride
Amsterdam offers 400 km of cycle paths (fietspaden). They are usually located on the right side of streets. Sometimes there are also two-way bike lanes. Cycle paths feature bike symbols on the road or on red colored lanes. Like in most of Europe, traffic goes on the right side of the street, bikes included. But many of the small streets don't have bike lanes. Just go with the flow or stay on the right. Bigger cars and trucks will usually follow you.
2. Check the signs
There are quiet a few signs and signals especially for cyclists throughout Amsterdam. The most important ones are: Traffic lights and bike lanes for cyclists. These traffic lights shaped as a bicycle are located on most major intersections. Stick to them. The other traffic has their own lights which can be different to the ones for cyclists. If there's no traffic light for bikes use the one for cars. The designated cycle routs are marked with a round sign with a white bicycle on a blue ground. That indicates a cycle path. A sign stating uitgezonderd ("except") with a bike symbol means that cyclists are allowed here.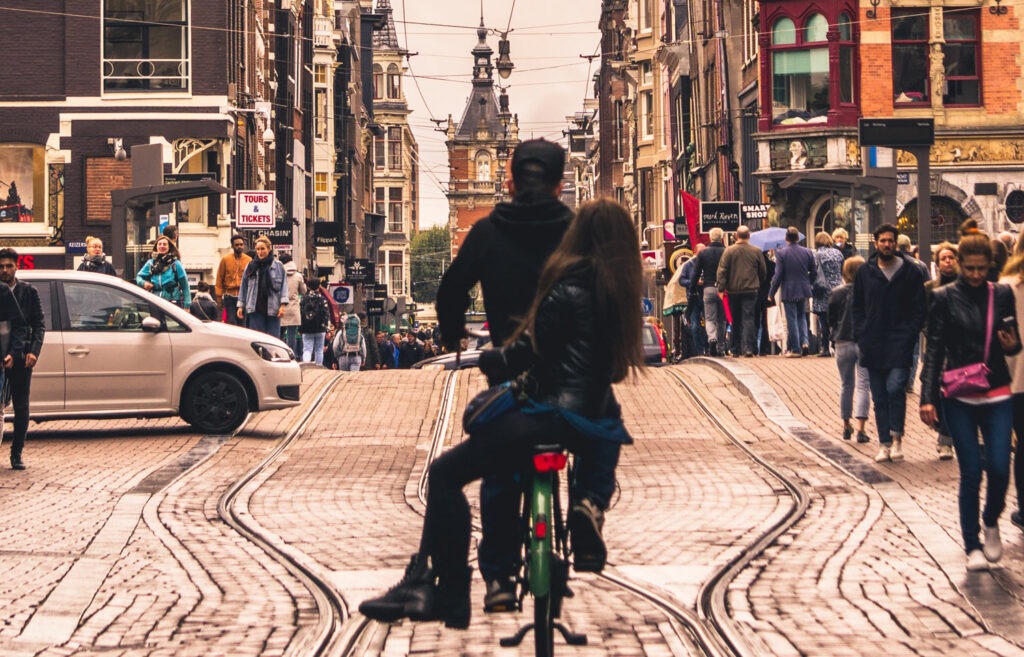 3. Give right of way
Always give way to trams. And for all other vehicles and bicycles, give way to all traffic coming from the right. Traffic coming from the left side is requested to give way to you. However always check twice if a car really stops for you.
4. Use your hands
Use hand signals when turning right or left. Point in the direction you want to cycle. This helps other vehicles and cyclists. When in doubt, always dismount. It's mostly more easy to push your rental bike through busy areas.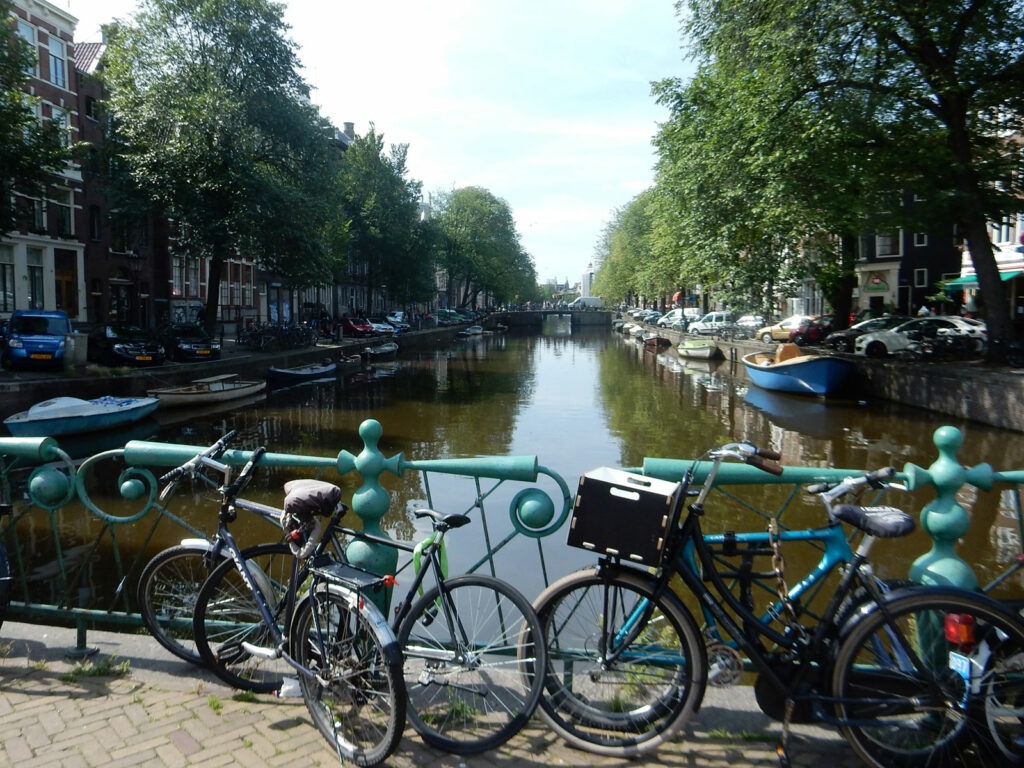 5. Obey the rules
Local cyclists like to ignore red lights. They also carry friends on bike racks. They ride on pavements. They don't use bicycle lights at night (required by law). They use their mobile phones while cycling. And the list goes on. As a tourist it is always advisable to not do all of these things.
6. Keep pedalling
Try to keep up with other cyclists. Never stop on bike lane or on the street (except for traffic lights) as it is very likely that there are others behind you which you may obstruct then.
7. Be defensive
No everybody knows the road rules. Especially pedestrian tourists. They probably walk on bike lanes without knowing it or cross streets without looking for traffic. Watch out for them and make use of your bike bell. Be careful about scooters, too. They tend to use bike lanes as well and can be a bit scaring. Stay to the right and let them pass.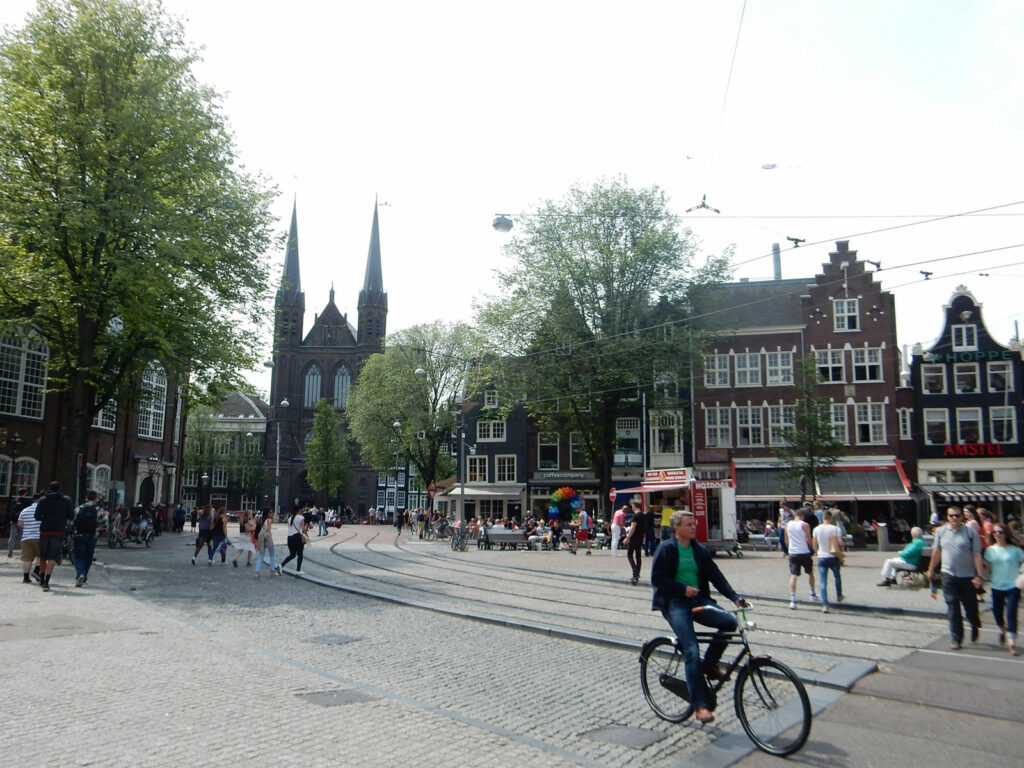 8. Lock your bike
Never never never leave a bike unlocked. Not even for the shortest moment. Although cycling is very popular in Amsterdam, bike theft is, too. Therefore make sure your rental bike comes with a bike lock and lock it to a bike rack, pole or bridge. But always check signs like "Hier geen fietsen plaatsen" (Do not place bicycles here). Parked bicycles could be confiscated here.
9. Don't get stuck
Watch out for tram tracks! They have almost the same size as bike tires which may result in insures and accidents. If you have to cross tram tracks, always do it in a sharp angle.
10. Navigate by map
Some streets in Amsterdam are not meant for cyclists. Therefore use a map to bike around town and find the best way through the city. Most bike rental shops provide city maps. The tourist information sells the map "Amsterdam op de fiets" (Amsterdam on the bike) for € 4 which shows suggested cycle routes, bike repair shops, tram lines, areas closed to cyclists and popular attractions.
Need a bike? Find a bike rental in Amsterdam.

Experience Amsterdam
You may also like
The perfect guide on cycling in Prague

-

The city of Prague offers excellent natural conditions for cycle tourism. The landscape is picturesque, and there are numerous natural beauties and historical monuments. A variety of cycling guides and maps are available on the market. Prague is one of the most sought after tourist destinations in Europe. While the feet, the tram, and the […]

Madrid's plans for becoming a cycling-friendly city

-

Cycling in the Spanish capital used to be rather dangerous. After a reconstruction of the infrastructure and an education program for motorists that has changed.

How to explore Vienna by rental bike

-

By bike you are on the move and yet slow enough to enjoy Vienna's sights. Vienna has over 1,300 km of cycle paths. Discover Vienna from your rental bike's saddle...