Although Paris doesn't seem to be a cycling city like Amsterdam or Copenhagen, many locals use their bikes as preferred mode of transport through the city. Dedicated cycle paths, wide bus lanes and the Vélib' bicycle scheme make biking in Paris a lot easier nowadays. If you're afraid of the sometimes crazy traffic (Arc de Triomphe!) cycle along the Seine or the Canal St. Martin.
Getting Around
Paris is relatively flat in the city center, except for Montmartre, the Butte aux Cailles and Belleville. Get yourself a rental bike in Paris. You can find a comprehensive list on this website. There are also providers for tandems, electric bikes or family bicycles. Make sure to get the free cycling map (French) at most bike rental providers or any tourism office. With that you can easily navigate through the maze of streets and find the most scenic bike routes. Sunday mornings are usually the best time to go around the city by rental bike.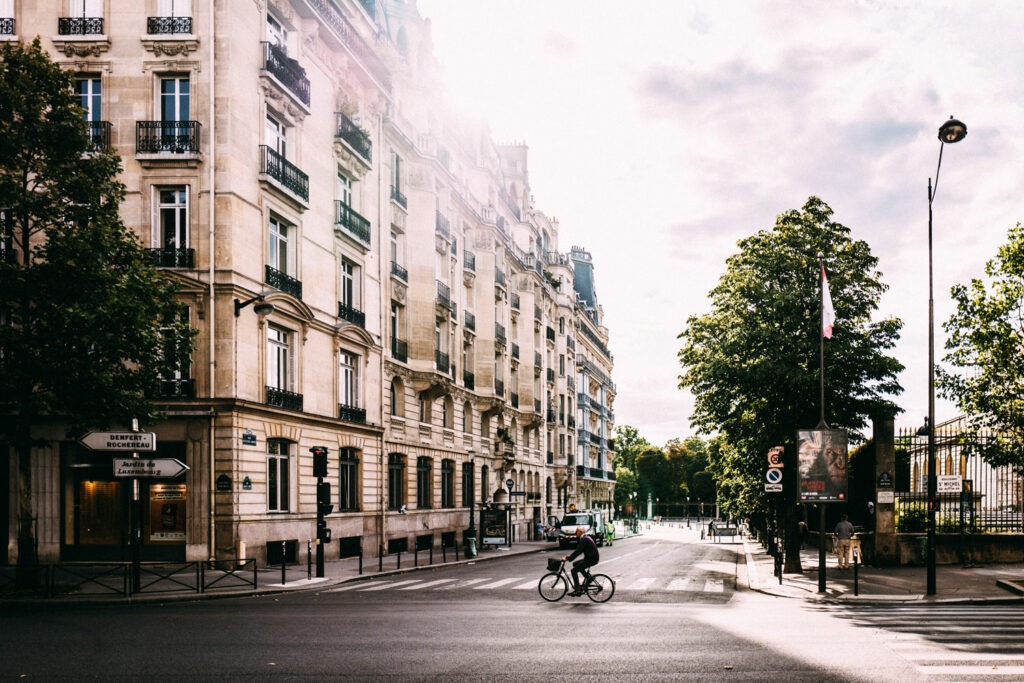 In Paris cyclists are allowed to ride on bus lanes, but it's recommended to get out of the way if a bus is behind you. Always indicate to where you're going (arm out right of left), watch out for parked cars pulling out or opening doors, and don't be afraid to make use of your bell. Stay off the pavements, give way to pedestrians and stick to the same traffic rules as cars.
Note: Although it might not look very chic, but wearing a helmet can be helpful.
Helpful Websites
The American David "Q" May created a very useful website for cyclists in Paris, with safety info and cycling routes.
Bike Rentals & Tours
On this website we provide a list of bike rental shops throughout Paris. They usually require a photo ID and security deposit. Be sure to also rent a bike lock.
Bikes on Public Transportation
Bicycles are allowed on trains and RER lines A and B, but only in wagons marked with a bike and not during rush hour (weekdays 6:30am-9:00am and 4:30pm-7:00pm). On metro line 1 cyclists are allowed on Sundays only until 4:30pm (no way out for your bike at La Défense or Louvre-Rivoli). Bikes are prohibited on busses.
Calculate your route
There are many ways to cycle in Paris – short, safe or comfortable. The calculator Geovelo allows you to prepare your bike tour around Paris.
Need a bike? Find a bike rental in Paris.

Experience Paris
You may also like
The perfect guide on cycling in Prague

-

The city of Prague offers excellent natural conditions for cycle tourism. The landscape is picturesque, and there are numerous natural beauties and historical monuments. A variety of cycling guides and maps are available on the market. Prague is one of the most sought after tourist destinations in Europe. While the feet, the tram, and the […]

Madrid's plans for becoming a cycling-friendly city

-

Cycling in the Spanish capital used to be rather dangerous. After a reconstruction of the infrastructure and an education program for motorists that has changed.

How to explore Vienna by rental bike

-

By bike you are on the move and yet slow enough to enjoy Vienna's sights. Vienna has over 1,300 km of cycle paths. Discover Vienna from your rental bike's saddle...