Copenhagen offers a variety of perfect cycling conditions, such as short distances, flat terrain and dense urban proximities. Furthermore there is a huge and well-designed system of bike lanes. This has earned the city a reputation as the most—bicycle-friendly city in the world.
The Infrastructure for the slow transport, especially for cyclists, is very good. The bike paths are separated by a curb from the other traffic, on crossroads there are extra blue marked bike tracks. Furthermore, car drivers have a special kind of consideration for cyclists. Copenhagen has the ambitious goal to become CO2-neutral by 2050. Traffic contributes to this – more cyclists, fewer cars.
Green bike routes
The green bike routes in Copenhagen are a coherent network of cycle and footpaths that run through recreational areas. The routes run through parks and harbor fronts and go beyond the busy roads. In total 24 green bike routes are planned for a total of 115 km. The first ca. 58.5 km are already built.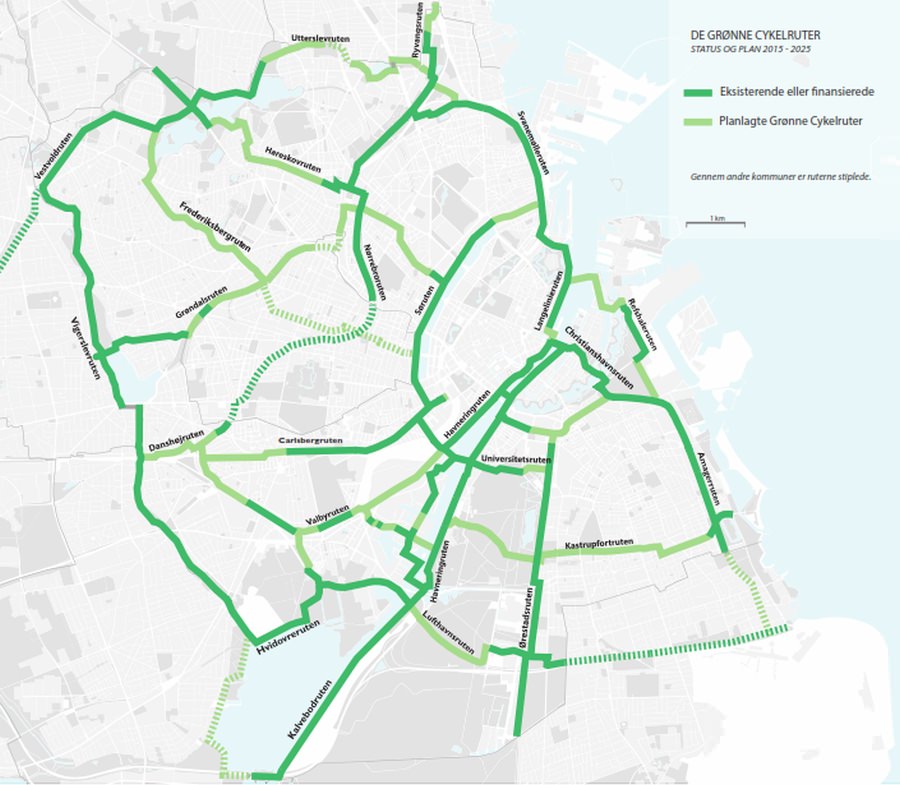 Map: City of Copenhagen
Super Bike Paths (Supercykelstier)
The Super Bike Paths is a coherent network of high quality bicycle shuttle routes in the metropolitan area of Copenhagen. These are high quality bike paths that makes it easy, safe and comfortable for cyclists to cycle from A to B. The purpose of the Super Bike Paths are to create better conditions for cyclists, plus giving commuters a good alternative to the car. Today you can find three active Super Bike Paths throughout Copenhagen – Albertslundruten, Farumruten and Ishøjruten.
At supercykelstier.dk you can see the established routes, read about the history and get an overview of the next developments. Use the Super Bike Paths as you explore beautifull Copenhagen.
Apps
I bike CPH: With the 'I Bike CPH' app you can find the fastest bike route through the city. The app searches for green bike routes, routes without cobblestones or paths more suitable for bicycles.
CykelPlanen: App for you commuting in the Copenhagen. The map shows the Super Bike Paths.
Need a bike? Find a bike rental in Copenhagen.
Experience Copenhagen
You may also like
The perfect guide on cycling in Prague

-

The city of Prague offers excellent natural conditions for cycle tourism. The landscape is picturesque, and there are numerous natural beauties and historical monuments. A variety of cycling guides and maps are available on the market. Prague is one of the most sought after tourist destinations in Europe. While the feet, the tram, and the […]

Madrid's plans for becoming a cycling-friendly city

-

Cycling in the Spanish capital used to be rather dangerous. After a reconstruction of the infrastructure and an education program for motorists that has changed.

How to explore Vienna by rental bike

-

By bike you are on the move and yet slow enough to enjoy Vienna's sights. Vienna has over 1,300 km of cycle paths. Discover Vienna from your rental bike's saddle...