+++Update 08/2018: Sacoora is a new player on the market providing road bikes and scooters.+++
+++Update 07/2018: oBike is insolvent. Ofo withdraws from the German market.+++
Apart from bike rental shops throughout the city, bike sharing schemes such as Lidl Bikes, mobike, Byke, Donkey Republic or nextbike make it super easy to get a rental bike on every corner. Here's a comprehensive guide on all providers including hire tips.
There are some pros and cons on bike share schemes. First they provide cities with easy access to bikes, affect climate change and air pollution positively, improve the health of cyclists and lessen the demand for parking spaces. Especially for tourists they provide an easy and handy way of exploring Berlin. No need to check opening hours of local bike rental shops as you can just hire and return it basically everywhere.
But there are also some concerns about these bike sharing companies. While local bike rentals usually provide helmets, repair kits or children's bikes, nextbike and co. don't provide these options. Every cyclist rides on their own risk. Especially for non-experienced bike riders this can be quite dangerous. Politicians and Berliner alike also complain about the bikes being placed everywhere and broken ones sometimes just end up as rubbish in the streets of Kreuzberg or Friedrichshain.
Nowadays almost every big city provides a good selection of cycle hire options and these are growing all the time. As for Berlin up to five bike share schemes started in the past years. The bike share schemes solely provide you with a bike as easy and quickly as possible. Local bike hire shops always offer added value, such as child seats, trailers, locks or bags. Or you may rent an eBike or MTB. It's up to you what you need and where you want to rent a bike in Berlin.
Bike Share Schemes in Berlin
The most exciting development regarding bike rentals are the schemes now popping up through Berlin. These currently include Byke, Donkey Republic, Lidl Bikes, Lime Bikes, mobike, nextbike, obike or ofo.
The advantage of the bicycle hire schemes is the automated self-service, which offers a convenient and flexible drop off at docking stations or sometimes even anywhere within the business area. Users mostly need to register before hiring bikes.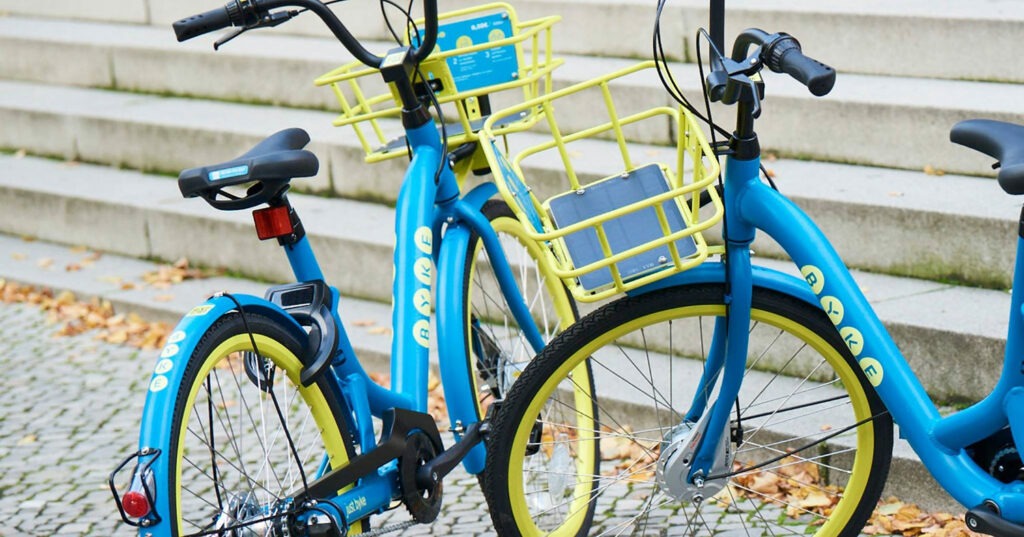 Byke
Another German operator for dockless bike sharing. Like the providers mentioned above you also need the install the app, register and scan the QR code on the Byke in order to hire it. The rent will end once the bicycle is locked again. Byke has a rather limited business area throughout Berlin which extends from the main train station, via Kulturbrauerei, Alexanderplatz, Oberbaumbrücke to Hallesches Tor. Friedrichshain and Neukölln are not included. Beside Berlin, Byke also operates in Frankfurt (Main), Germany.
Price: €0.50/30 min (launch deal)
€3/day (for up to 12 rides for max. 30 minutes in 24 hours)
You can save money by adding credit to your account.
Deezer Nextbike
German-based Nextbike provides bikes in more than 100 cities in 24 countries. You can register via their free mobile app, website, hotline or on-street terminals. Bikes can only be hired and returned at Nextbike's docking stations with or without terminals. If you want to rent a bike, you need to enter the bike number in the app, bike computer, terminal or hotline. After that you will get a four-digit code to your mobile phone to unlock the bicycle. When returning the bike needs to be placed in the dock and confirmed via app or terminal. One user account can hire up to 4 bikes in all countries. The business area is mainly within the S-Bahn ring.
Price:
€1/30 min
€1.50/every additional 30 minutes
max. €15/day
All customers with a paid Deezer account get the first 30 minutes of each rental with Deezer nextbike Berlin for free.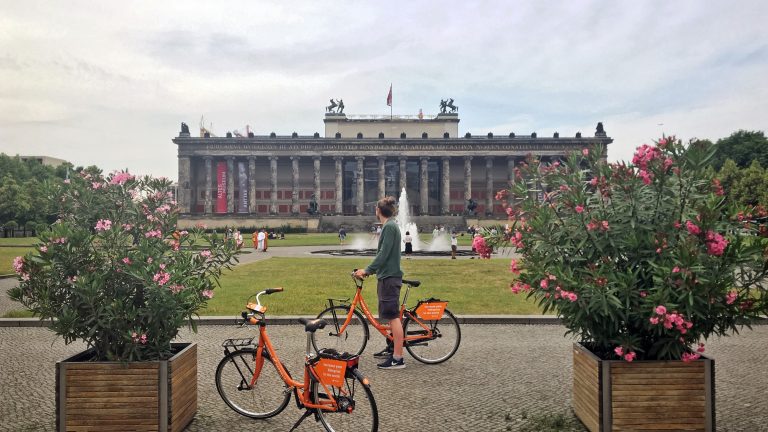 Donkey Republic
A bike sharing company from Copenhagen. They also provide dockless bike sharing in more than 40 cities worldwide. The bikes use electronic locks that can be opened via their app. If you want to rent a bike from Donkey Republic you need to register in the app. With that you can locate a free bicycle near you. Go to the pick-up location, click ͞Unlock͟ and the bike's electronic lock will release the bike. You can hire up to 5 bikes at once and you can lock and unlock your bike as often as you like. If you want to return it, just lock it at the location where you picked it up and end your rental in the app. If you want to return it somewhere else you need to buy Flex Drop-Off, with which you can choose from various drop-off locations.
Price:
€1.25/30 min
max. €10/day
www.donkey.bike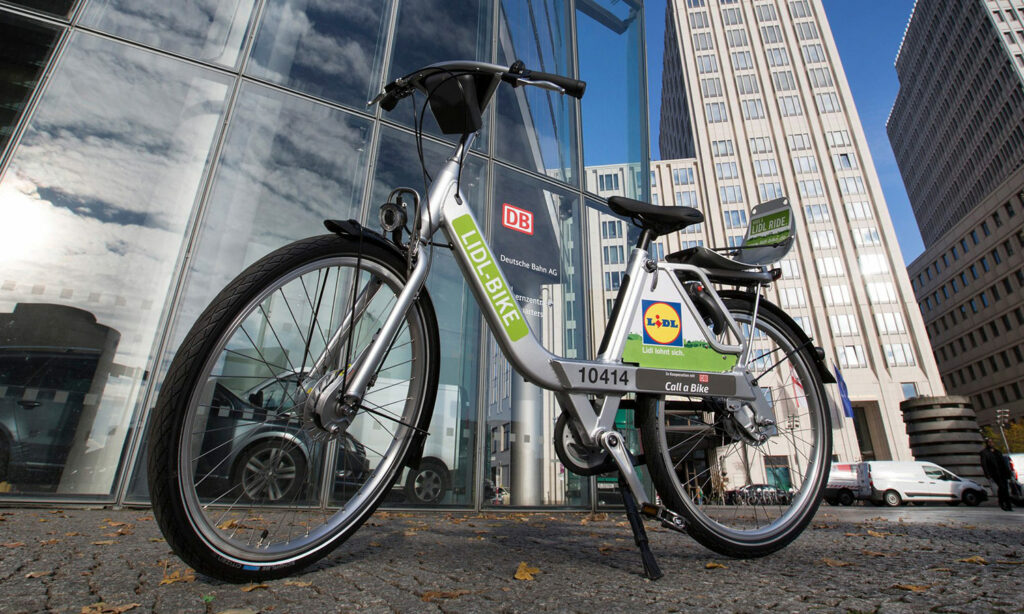 Lidl Bike
What used to be the Call a Bike scheme is now Lidl Bikes. The German Rail partnered with the German supermarket Lidl to offer rental bikes in Berlin. In other big cities in Germany it is still Call a Bike. The business area is also mainly within the S-Bahn ring. With the LIDL bike app you can see the available rental bikes and drop-off zones near you. Select a bike and receive the unlock code. Enter this code on the display on the bike and push the red button on the lock to unlock it. You may also lock and unlock your bike as often as you like. The LIDL bike can be parked anywhere within the Berlin S-Bahn ring. If returned at a return zone, there is a bonus of €0.50. Press the lock button on the right side of the lock and slide the latch down. It will automatically detect the return and the display will show a confirmation.
Price:
€15/day
Lime Bike
Lime Bike is a US-based company which offers electric scooters as well as e- and pedal bikes with its dockless bike scheme. In their own app you can find bikes and scooters nearby. Scan the bike with the app to unlock it and start the ride. You may park the Lime Bike wherever it is allowed. Close the back lock to finalize your trip. The hire time ends immediately. Lime Bike is currently available in many cities in the US as well as Berlin, Bremen, Frankfurt and Zurich.
Price:
€1/30 min (normal bikes)
€5.50/30 min (eBike)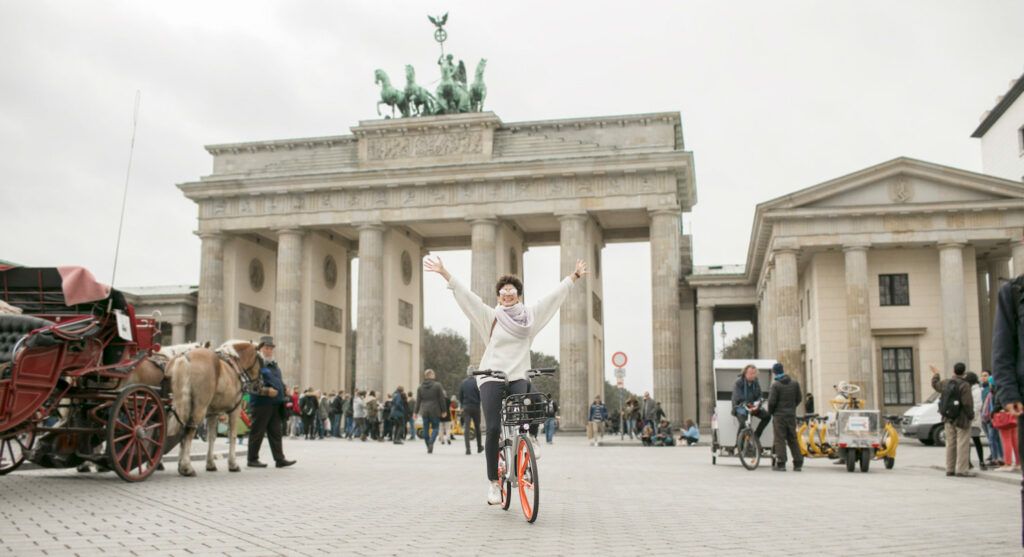 Mobike
Mobike is a bike hire company based in China offering dockless bike sharing. Mobike provides an app to unlock the bicycle you want to rent. For returning your rental bike, simply lock it to a cycle rack. But parking it at the Mobike Preferred Locations is recommended. With your app account you can hire bikes from Mobike in over 200 cities worldwide. The app lets you find the nearest available Mobike and you can also reserve one for up to 15 minutes. If you want to hire a bike, you need to scan the code on the bike in the app. For returning it, just lock the bike. The hire time ends immediately.
Price:
€0.50/30 min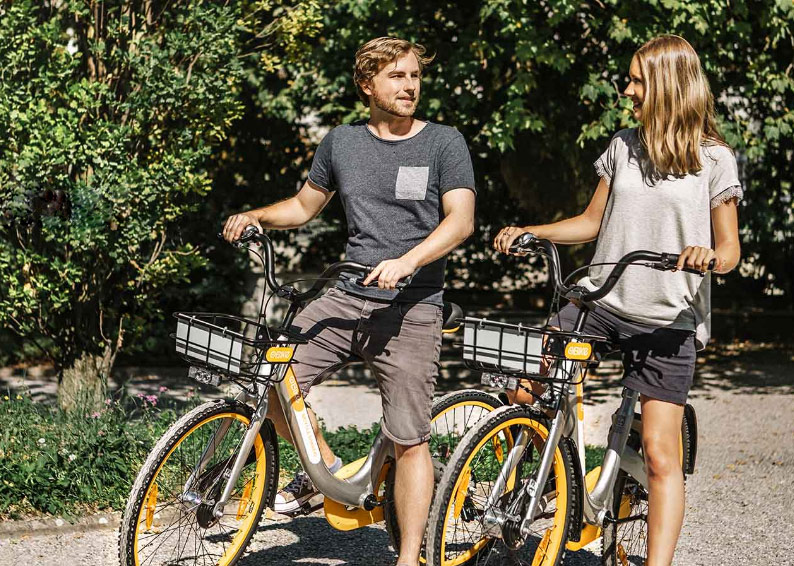 oBike
This operator started in Singapore in 2017 with 1,000 bicycles. They now provide a dockless bike scheme in Asia, Oceania and Europe. For hiring a bike just open the app, find a rental bike near you and scan the QR code on the bike. You may also reserve the bike for 10 minutes. For returning just park your bike anywhere within the blue zones marked in the app, lock the bike and the rent will automatically end.
Price:
€1/30 min
+++Update 07/2018: oBike is insolvent.+++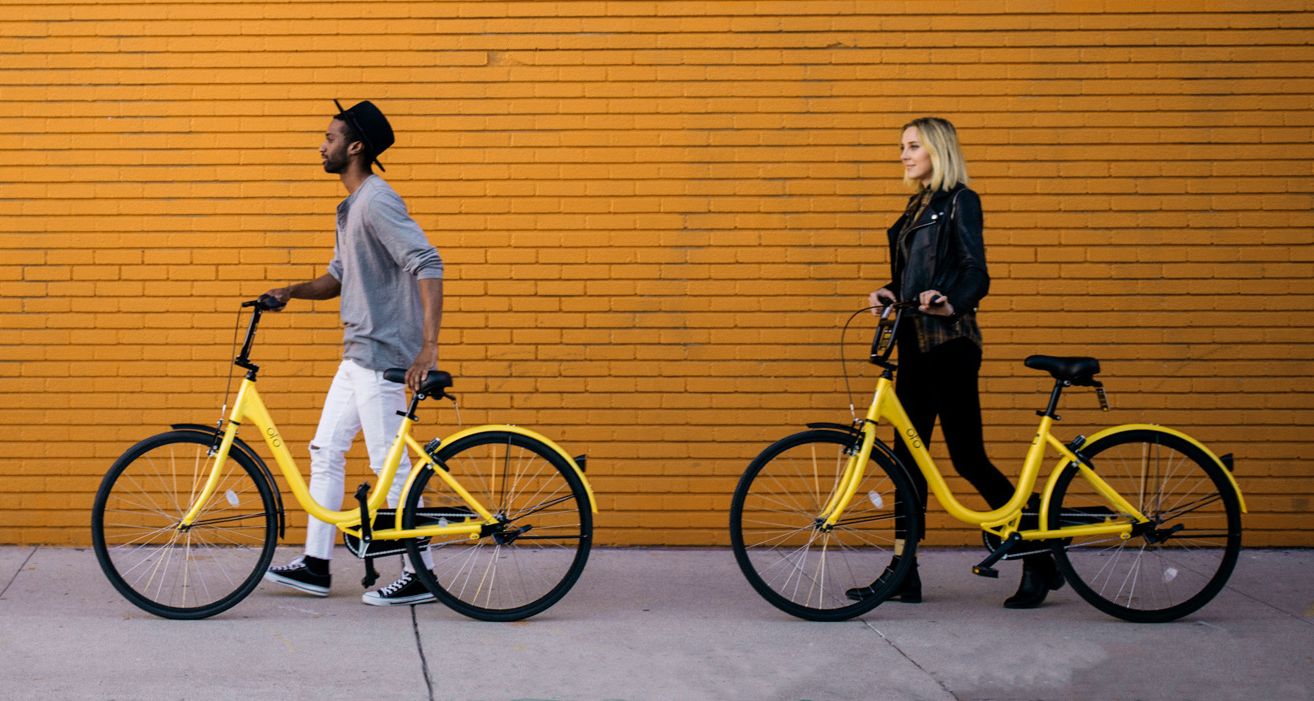 ofo
Founded in 2014 in Beijing, China, ofo is the world's first and largest station-free bike sharing scheme. To date, ofo has connected more than 10 million bikes to over 200 million users in more than 20 countries, e.g. Australia, France, Germany, India, Russia, or the Netherlands. It works just as many other bike sharing schemes with their own native app. With that you can find a bike nearby, scan the code on the bike and start the ride. When your done park the bike safely and legally, and manually lock it to automatically end the trip.
Price:
€0.80/20 min
+++Update 07/2018: Ofo withdraws from the German market.+++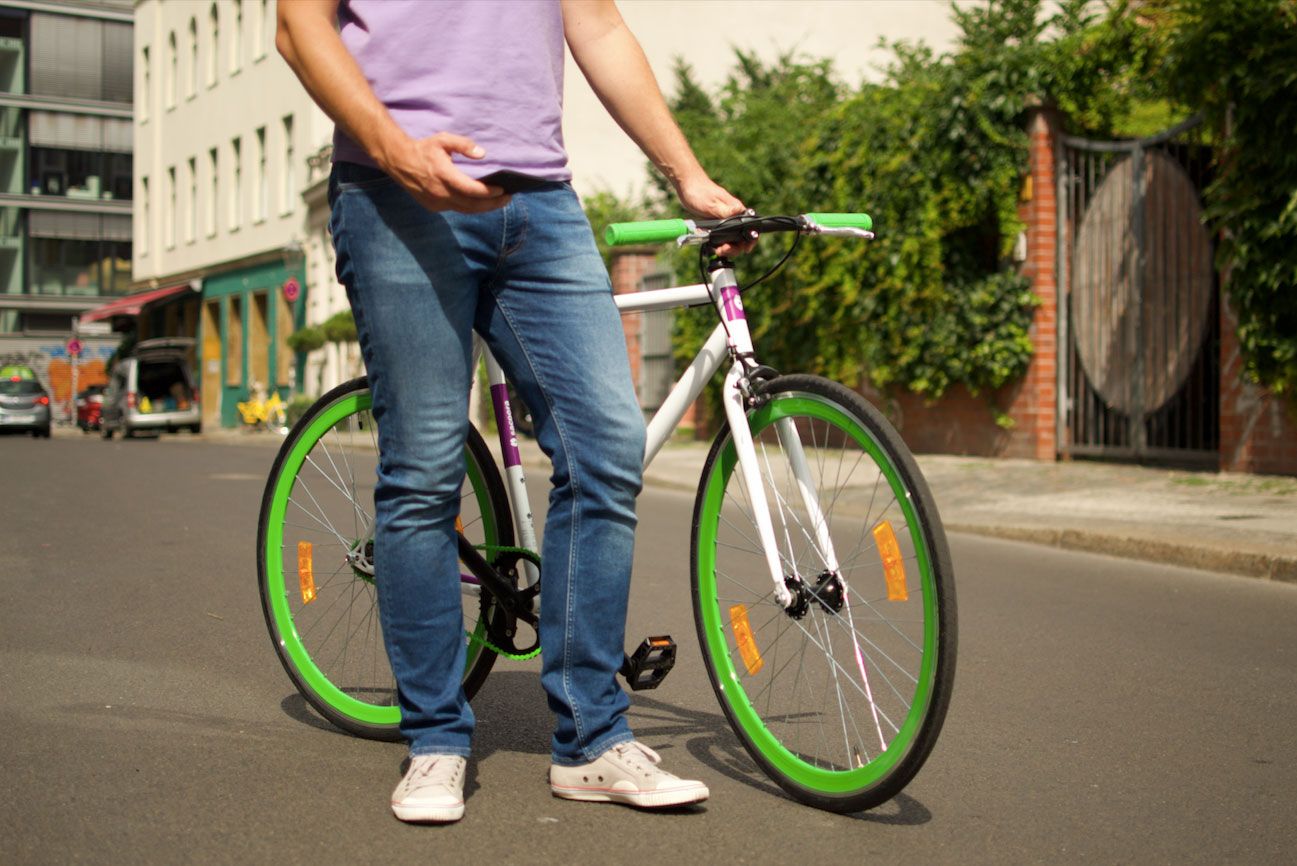 Sacoora
There is a new player in the bike sharing game in Berlin. Sacoora provides road bikes and scooters for sharing through their own native app. According to their website they are the first bike and scooter sharing company "that cares about quality". They placed good looking bikes, kickbikes and electric scooters in Berlin. Unlock your ride with a simple swipe. Approach it, swipe it, start riding. You can leave it anywhere you want.
Price:
€1.00/30 min
Plus: Berlin and Bike
Not a bike scheme with self service in the classical sense. But they have a huge network of partner shops with which they can provide up to 2,000 bicycles at 130 renting points throughout Berlin. Rental points can be everything from a hotel, a beauty studio up to a souvenir shop. Advantage is that if you're staying in one of their partner hotel or hostels you can easily hire your bike right at the door step. They also employ a maintenance team to assist you if you need a help.
Price:
€8/4 hours
€12/day
Conclusion
Bike sharing is an easy way to hire a bike in Berlin. You can find a bike on every corner and after a quick registration you can just start cycling through the city. So especially for Berlin it helps to be pre-registered for at least one of the above mentioned providers. And some of them also operate in different cities in Germany and Europe, so your next cycling tour in another city is set.
However, there are also some disadvantages. Apart from Bike and Berlin you need a smartphone with wifi connection to hire and drop off the bikes. Plus if you need something special like a children's seat or a helmet, it is advisable to check out one of the many bike rental shops in Berlin.
Image Copyright:
Nextbike, Deutsche Bahn (Lidl Bikes), Mobike, Donkey Republic, oBike, Byke, Lime Bike, ofo, Sacoora.
Don't feel like cycling alone?